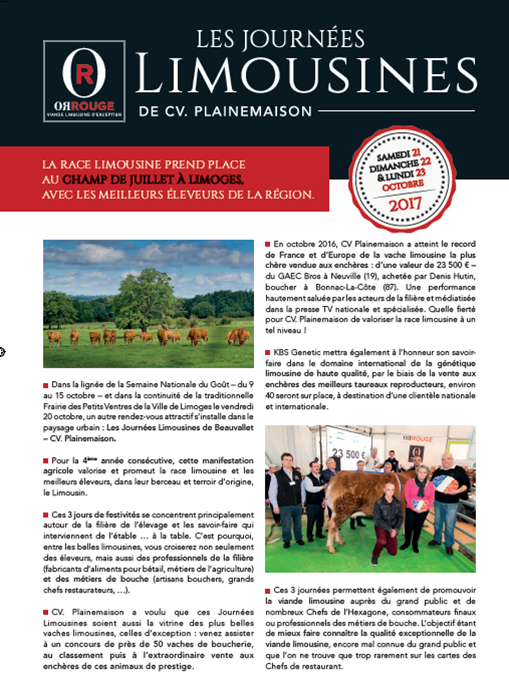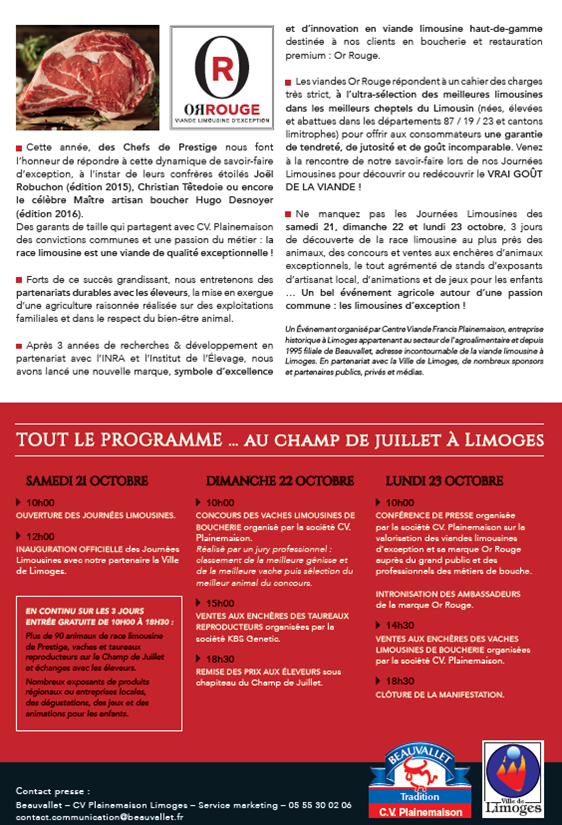 CV Plainemaison's Journées Limousines event was a great success in October 2016 in Limoges, bringing together all the industry's operators around the best Limousin cattle farmers and unprecedented auction sales. This year, the Journées Limousines event organised by Beauvallet / CV Plainemaison will take place from Saturday 21st to Monday 23rd October in Limoges, to promote Limousin beef and the Or Rouge brand, an exceptional meat dedicated to catering industry professionals.
Continuing the good work of National Taste Week from 9th to 15th October, and following on from the traditional "Frairie des Petits Ventres" in Limoges on Friday 20th October, another appealing event is joining the urban landscape: the Journées Limousines presented by CV Plainemaison – Beauvallet.
For the 4th consecutive year, this agricultural show will be showcasing and promoting the Limousin breed and the best cattle farmers in their original terroir: Limousin.
These three festive days will be mainly focused on the breeding industry and the expertise that goes from field…to fork. Amongst the wonderful Limousin cattle you will meet breeders and also agricultural professionals (cattle feed manufacturers, farmers) and catering professionals (artisan butchers, restaurant chefs, etc.).
CV Plainemaison wants this Journées Limousines event to be the showcase for the most beautiful Limousin cattle as they are exceptional beasts. Come and watch a competition of nearly 50 fed cows as they are ranked and classed, then witness the extraordinary auction of these prestigious animals.
Last year, CV Plainemaison set a record in France and Europe for the most expensive Limousin cow ever sold at auction: €23,500 for the GAEC Bros farm in Neuville, bought by Denis Hutin, a butcher in Bonnac-La-Côte. An exploit highly praised by everyone in the profession and covered by the national and specialised media. CV Plainemaison was very proud to represent the Limousin breed at such a high level!
These 3 days also aim to promote Limousin meat with the general public and many chefs in France, end-consumers and catering professionals. The objective is to spread the word about the exceptional quality of Limousin meat, still not very well-known by the general public and rarely seen on restaurant menus.
Press contact:
Beauvallet – CV Plainemaison Limoges
Marketing department – Tel.: +33 (0)5 55 30 02 06 Email: contact.communication@beauvallet.fr
Site web : orrouge.fr
Journées Limousines October 2017